By The Pool Or On The Deck PAC Is There.
Now is the perfect time to consider a plan for bringing your favorite music and movies to the great outdoors. Yes, I said movies too! But more on that later. First, the outdoor stereo system.
Your favorite music can sound even better playing in your garden or on your patio and deck than it does in your home music room. And let's not forget to mention the rest of the outside spaces that music can be enjoyed from. Pools, Hot Tubs, driveways, and even the garage are all worthy candidates for an outdoor stereo system. There is no reason why a music lover can't enjoy hers or his favorite tunes in all of these outdoor spaces.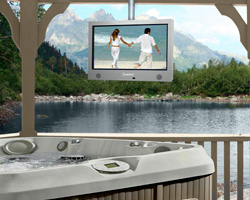 Many outdoor activities can be greatly enhanced by adding your favorite music. From first hand experience, shooting baskets with your kids, washing and waxing the convertible, planting tomatoes and basil in the garden, floating in a pool chair, relaxing in the hot tub with a glass of Chardonnay, and BBQing a juicy rib eye, all are more fun and greatly enhanced by music. At the touch of a button, Pavarotti, James Taylor, and the Beatles should all be able to share your outdoor spaces. Your musical favorites will be heard but not seen. Thanks to the latest generation of innovative outdoor speaker designs, your new outdoor stereo system will be totally stealth. The choices that are now available are quite diverse. Outdoor speakers of high sonic value can be disguised as: flower pots, planters, benches, water pipes, and of course, rocks. These unique designs are all permanently installed with wiring that is completely hidden and invisible. All of these are built to be impervious to the elements and can stay outside all year round.
WHAT ELSE WILL YOU NEED? In many cases if you already own a decent quality music system in your home, an outdoor stereo system can be added with minimum upgrading of your existing components. Or starting from scratch with an independent music system specifically designed for use with your new pool and patio speakers is frequently the best route to take. If you are fortunate enough to own a pool house or cabana, these are both great locations for the electronic components. The shorter the speaker wire runs, the better for sound quality and reliability.
CONTROLLING THE MUSIC: Just as important as the sound quality and the aesthetics of your new outdoor stereo system is the ease and convenience of operating it. Firstly it is important to decide what music sources that you want available outdoors. I suggest the following music sources as considerations: CD, Ipod, AM/FM, XM or Sirius Satellite radio, and music server. Most people won't need or want all of these, but at least two or three would be most flexible and engaging.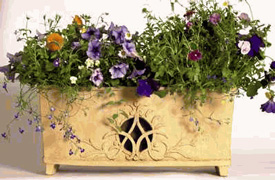 Next a decision will need to be made regarding remote control of the system. A number of solutions are available including anything from the most basic volume control knob, controls mounted on an exterior wall, to hand held, waterproof remotes that can control every function that your system offers. The latter can turn the system on, choose a music source, then control that source, as well as raise and lower the volume and mute the sound altogether.
Another nifty enhancement to an outdoor stereo system is multiple zone capacity. This simply means that your kitchen speakers could be playing a Sinatra CD, while on a sunny Sunday afternoon, your patio speakers are providing the play by play from a Yankee game on XM radio. All from one central multi zone music system. The possibilities are limited only by your imagination. The important fact to remember is that the options are many, and so are the pitfalls. So even though your brother in law or your teen age son has volunteered to help get music into your great outdoors, as tempting as it may be to take them up on their generous offer. There is no better way to obtain a great sounding, great looking, outdoor stereo system, that is also reliable and easy to use, than to interview and hire a professional A/V specialist to do the project right the first time.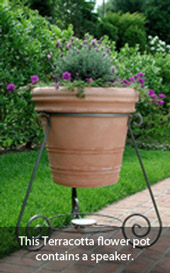 OUTDOOR VIDEO: The next step in obtaining outdoor entertainment Shangri-La is to add video to the new music system that you just started to enjoy. A simple and basic approach that appeals to most people who spend as much time as possible enjoying the great outdoors, is the installation of a weatherproof LCD flat screen TV. One leading brand in outdoor viewing products is Sunbrite. This company offers many sizes of fully weather proof LCD TVS. These flat screens can be portable or permanently installed and sealed in a hard case, that protects against winter weather and theft as well. The speakers are built right in to the Sunbrite, but your A/V specialist can integrate your new outdoor planter speakers and the Sunbrite, so the N.Y. Giants will sound like they are playing in their new stadium, not a plastic box.
For those of us who desire more than the basic outdoor TV viewing experience on our deck or patio, we can travel Back To The Future once again. Are you old enough to remember drive in movie theaters? They were huge in the days before DVD, Pay Per View, Net Flicks, Video Games, and the Internet. There are a number of reasons why to acquire your very own drive in movie theater. Nostalgia, movie and film fanatic, the first one on your block syndrome, and maybe a few others.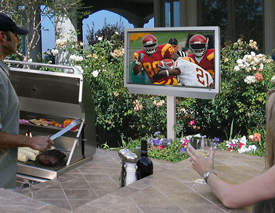 THE NUTS AND BOLTS: All you need is a suitable space. Preferably behind your house! A talented and experienced A/V specialist is really key here. The movie screen can be mounted on a retractable roller (like a window shade) and be pulled down or motorized down into position in front of your garage doors or rear exterior wall of your home. The video projector can be mounted to the garage ceiling and project from behind the screen. Or be mounted in a mobile equipment cart and moved into position only when it is show time. Add a DVD player and a/v receiver to the cart and you are almost complete. The final steps are to locate the best spots and the best types of speakers for your application. No matter whether the theater is a commercial one, in your home, or in your yard, a great theater experience requires a 5.1 surround sound speaker array. Be sure that the theater will be easy to set up and store when not in use. And a single, hand held remote, that has been custom programmed for your specific system is paramount. The more system elements that are permanently installed the better. If you set this up just right, you may even be able to watch your outdoor theater from the pool! Decedent? Maybe. But what fun!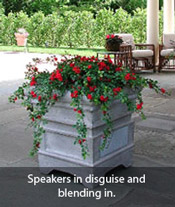 The outdoor movie theater concept is very popular in states with warmer climates, like Florida and Southern Ca. So how much is all this fun gonna cost me? The typical drive in home theater cost about he same as its indoor counterpart. I would suggest a budget of from $15K to $20K and up from there.
As you can probably tell I am very enthusiastic about home entertainment in the great outdoors. Once you have experienced a well designed, professionally installed system, I bet you will be too!
Compare Us To The Others
Download this free PDF document we created to help compare us to our competitors.
Download