Professional Audio Consultants (PAC) Moves to Larger Showroom in Millburn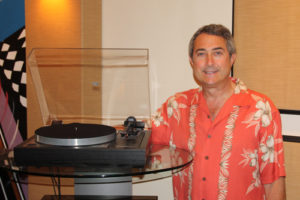 MILLBURN, NJ – After 33 years of doing business on Essex Street, Professional Audio Consultants (PAC) has moved to a larger showroom located at 269 Millburn Avenue. PAC is the preeminent home entertainment dealer in northern New Jersey, providing audio and video system design, installation and maintenance.
The centerpiece of the new location will be a custom home theater room that the team at PAC has designed "from the ground up," according to PAC's founder Ralph Tarnofsky. Double-thick walls with extra insulation will provide an environment that will not resonate when the volume gets turned up.
"The interior of the theater room will be acoustically tuned and treated by our partner vendor, CinemaTech," Tarnofsky said. "They will also be installing four of their high-end home theater chairs and additional seating for four more people on barstools behind that. The theater will be a big step up from what we had on Essex Street."
The new theater will also feature electronics with the most up-to-date surround-sound technology, including the new Dolby Atmos system, which is the most advanced sound system available.
The front area of the new showroom features high-end two-channel stereo systems, in both solid state and vacuum tube configurations. "We are highlighting audiophile grade equipment – speakers, amps, turntables, and tube electronics, old-school technology that just sounds great," Tarnofsky said. The larger space affords them the opportunity to display a wider variety of equipment than they ever have before. Cutting edge computer-based audio playback is also featured, making high resolution files easy to access and play throughout the home.
Home entertainment offerings include the Kalaidescape System and the brand new Prima Cinema system, which brings current first-run movies directly to your home while they are still in theaters. PAC also provides whole-house music systems, outdoor audio and video systems, home theaters ranging from family rooms to exotic themed theaters, lighting controls, home automation, and motorized shades and drapes.
PAC is planning multiple grand opening events in the coming weeks, so check their website: www.pac-nj.com.
Professional Audio Consultants: 269 Millburn Avenue, Millburn; (973) 467-1950.