We Have Cost-Effective Business Solutions.
Conference Room Technology – We Can Bolster Your Bottom Line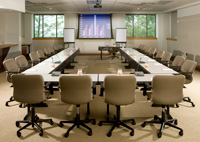 PAC creates ultra-modern audio/visual environments for corporate conference room technology, boardrooms and executive offices. Our experts plan, design and install universally controlled presentation systems and conference room technology for offices that include high definition televisions and projectors, view screens, integrated telephone and teleconferencing equipment, videoconferencing capabilities, shade and lighting control systems and individual Internet and e-mail access. All functions are made accessible through simplified touchscreen system control.
We also design and install distributed audio and video systems for consumer-oriented businesses, such as a restaurant or sports bar. Whether it's one giant screen or any number of synchronized smaller screens strategically placed throughout an establishment, PAC engineers and installation technicians can handle the job.
Compare Us To The Others
Download this free PDF document we created to help compare us to our competitors.
Download