Professional Audio and Video For The Home.
Choosing a Whole House Audio System
It's 6:30pm: you push open the front door, rest your brief case in the foyer and head for the den. As you enter, your hand pauses over a small panel and suddenly, cool jazz springs to life, real as if the musicians were in the room with you, sharing your scotch and sneaking peeks at your daily mail. Downstairs, the kids and their friends delight to a theater-quality performance of the latest action thriller. At the same time, chamber music floats across the master bathroom, soothing tired mom as she unwinds in a bubble bath. Life is good!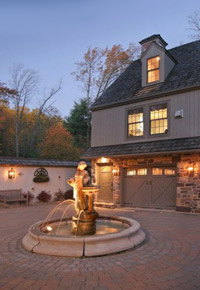 Thanks to advances in digital and software technology, it's now possible to put a universe of great performances at your command, available at the touch of a button, in any room in your home. Still, it takes more than desire to assemble a satisfying whole house audio system. As consumer electronics hardware has become more sophisticated, the expertise and professionalism of designers, installers and technicians is more essential than ever.
Let PAC Guide You
Ralph Tarnofsky, president of Millburn's Professional Audio Consultants, one of New Jersey's premier system designers for over a quarter century, offers this advice for choosing a home theater or whole house audio system that exceeds expectations:
Start with a plan: Before you begin to shop know if you are looking for a simple "rack system," a dedicated theater room or a whole house audio system that controls lights, phones and alarms as well as music and movies? A little advance planning will help determine the system budget, the brands or models that make sense and your choice of retailer. It will also save you time and money.
How to choose a dealer: If you're looking for a single component-a new television or DVD player, for instance-a discount chain or mail-order outlet might be fine, especially if you know what you're looking for and have some technical savvy. On the other hand, as the system becomes more sophisticated and your knowledge less complete, the capabilities of the designer, the caliber of his employees and the diversity of his product offerings become more critical.
Know where to go: Once you've decided what type of retailer is right for you, how do you find the best one? First of all, stay local, so that follow-up visits are easily scheduled, and friends and neighbors can offer recommendations. Reputation and expertise are crucial, so check with trade organizations like CEDIA or PARA.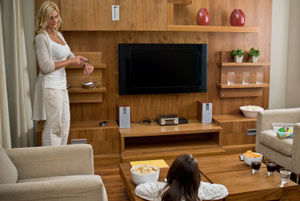 Money isn't everything: The most common mistake is assuming that the lowest price is the best deal. Compare apples to apples, because all too often the low-cost dealer is selling you an inferior model, or doesn't offer delivery, installation or after-sale services that, for many consumers, are more important than price.
The tools and the talent: The skill of the individual running cables-not to mention the choice of the cables themselves-and the ability of the system designer to synergistically match components have a profound impact upon the quality of the finished product. So can the training of the technician. For example, all of our video technicians have attended ISF (Imaging Science Foundation) seminars, so they're experts at optimizing the television for ultimate video quality.
Lifelong relationships between the customer and retailer are forged after the sale. The client needs to be taught to get the maximum from his system after it's been installed. He should expect after-sale service, support and maintenance. What's more, if he wants to expand the system or upgrade components, he'll want to turn to the company that originally installed the gear. For a professional organization, the sale is never over.
Compare Us To The Others
Download this free PDF document we created to help compare us to our competitors.
Download