09 Apr

Best Seats "Outside Of" the House

Outdoor Sound
"THE OBVIOUS BENEFIT TO THIS CUTTING EDGE DESIGN IS FLEXIBILITY OF PLACEMENT AND A TOTALLY STEALTH LOOK."
By now nearly everyone has seen and heard conventional outdoor speaker systems. I am talking about those wedge shaped white or black cabinets that are bracketed to the rear exterior wall of many homes. Or maybe you purchased the speaker rocks that are a bit more subtle, but still don't fool anybody into thinking they are actual rocks scattered around your landscape.
In the last couple of years several well known speaker manufacturers have perfected much more desirable solutions to the age old question: "How do I get great sound that includes even coverage throughout the entire outdoor living space, without obvious and obtrusive speakers?" One of my favorite designs is offered as a complete matched system. All required components are included except the music sources.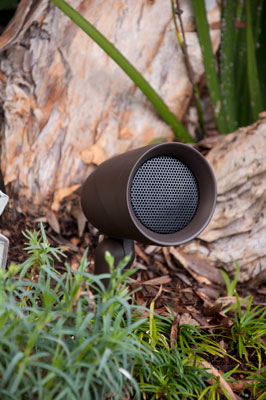 The system starts with a purpose built, powerful commercial grade amplifier. That's plenty of juice to drive multiple pairs of speakers at whatever volume level you, your family, and your guests require.
Then add a sophisticated equalization circuit that is designed to allow the installer many options to create the perfect sonic balance. These electronics are also specially designed to be compatible with extremely long speaker wire runs. In fact several hundred feet is no longer a problem, thanks to the 70-volt line design of this product.
Finally, speakers that are heard but not seen. The solid impact of bass guitars, bass drums, pedal organ notes, and timpani are delivered by subterranean subwoofers. One or more watertight canister shaped subwoofers are strategically located and completely buried in your landscaping beds. The super low bass notes emerge from a subtle mushroom shaped port that is usually blocked from view by your plantings. The midrange and high frequency sounds are provided by small bullet shaped speaker modules. The modules are available in several sizes and many colors. These streamline shaped speakers can be mounted on the same stakes that are normally used for outdoor lighting fixtures, so the speakers and lights look almost identical. Other possible mounting locations include trees or lampposts.
The minimum number of speaker bullets is four, plus one subwoofer. Larger outdoor spaces may require several subwoofers and eight or twelve speaker modules.
The obvious benefit to this cutting edge design is flexibility of placement and a totally stealth look. This new product can allow your system designer to strategically place speaker bullets next to the hot tubs and fire pits, where concentrated sound is desirable, and spread more dispersed sound thru out gardens and seating arrangements. Of course all of this great sound can be controlled remotely via a wireless hand held remote, and yes, the remote is waterproof too!
Most of my clients prefer a variety of source components to choose from, the most popular being CD, XM satellite, IPod, Pandora, Rhapsody, and ITunes.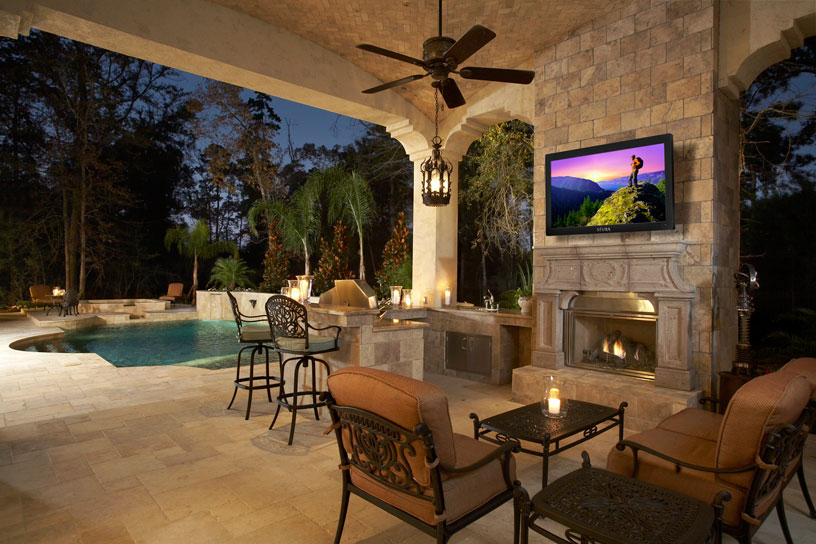 "SPECIAL BRACKETS THAT ALLOW A FLAT SCREEN TO SPIN COMPLETELY 720 DEGREES FOR TOTAL VIEWING COVERAGE, AND MOTORIZED MECHANISMS THAT ALLOW THE TV TO SLOWLY APPEAR FROM A HIDDEN ENCLOSURE, ARE READILY AVAILABLE."
here are also several new developments in the category of outdoor video products. Outdoor, weatherproof flat screen TVs have risen to new heights and sizes too! The earliest versions of this product were typically 32″ diag screen sizes and smaller. Picture quality was good but not great. The latest generation of products in this category have grown in size and improved in image quality. I am aware of several manufacturers that have broken the size barrier with models ranging all the way up to 65″ diag screens. Best of all, the compromise in the quality of the image has virtually been eliminated.
The mounting options and applications for these flat screens have also grown to include many unique possibilities. Special brackets that allow the flat screen to spin completely 720 degrees for total viewing coverage, and motorized mechanisms that allow the TV to slowly appear from a hidden enclosure, are readily available. By now everyone has probably seen a flat screen TV mounted above a family room fireplace and mantel, but how about above an outdoor fireplace? If you can imagine it, chances are it can be done!

In most cases the audio and video technologies go hand in hand to enhance the end result. Picture a 50″ or even 60″ flat screen that motorizes out of a thin slot cut in the granite counter top of your Tiki Bar. Once in viewing position you choose to enjoy your favorite Eric Clapton concert on Blu Ray disc. The image is massive and has great depth and clarity. Eric's tasty guitar riffs emanate from those discreetly located bullet speakers and envelope you in sonic splendor. You and your guests will be sitting in the best seats in the house!
My love of music and movies motivated me to start a small HIFI business back in 1975. I have been on the scene from the time the home electronics world revolved around the vinyl LP and the vacuum tube, through today's digital revolution. I'll present fun, useful facts and information about home electronics in plain English, not techno-babble, on topics ranging from the nostalgic past to the latest technologies, and everything in between.
Ralph Tarnofsky has been in the home entertainment and electronic business for 35 years and has owned and operated Professional Audio Consultants in Millburn, NJ for 28 years.