09 Apr

High Tech Toys
Just in time for the holidays, I present three high tech products to enjoy in your home. One is brand new; the other two, while not new, are much improved.
THREE DIMENSIONAL TV

3D TV is here NOW! Thanks to blockbuster movies like Avatar, Toy Story 3 and Alice in Wonderland, the movie going public has been reintroduced to the new and improved technology of 3D. Following this lead, most of the major flat screen manufacturers have shipped first generation 3D Plasma and LCD TV's that are 3D ready. The sizes range from about 40″ to 65″ diagonal and are restricted to the higher end of the model range.
The price difference between 2D and the equivalent 3D model is an average of $500. All current 3D flat screens are shipped with two pairs of matching 3D glasses. The glasses are proprietary to the brand of TV and are not interchangeable between TV brands. These 3D glasses utilize active shutter technology and they are vastly superior to earlier versions that had one red lens and one blue. The active shutter glasses are also available separately for about $150 per pair.
So what is there to watch in 3D? Broadcasts are available on several networks with more scheduled for 2011 and 2012. Broadcasters need to invest in new and very expensive 3D cameras and must also train their cameramen to use the new equipment to produce quality 3D material. Current 3D programming is focused on sports and nature related shows. However, many other types of programming are on the way.

3D content is also available in blue ray. The requirements are a 3D compatible blue ray player and the handful of 3D blue ray movies that have been released so far. 3D gaming is available via NUVIDIAS 3D vision gaming PC. All of the gaming systems are pre loaded with Microsoft 7 64 bit operating systems.
My advice about purchasing 3D is based on two factors. The best quality Plasma and LCD flat screen TV's are also the models that are 3D ready. In order to handle 3D images the TV must have the most superior design elements; if you purchase one you will experience the best high definition 2D picture right now. and 3D later if you so choose. Secondly, the additional up front costs to buy 3D are minimal.
MUSIC LITE BULBS
A brand new product that combines several existing technologies into one ingenious package is called Music Lite and is the brainchild of two unlikely technology partners, Artison and Sylvania. Artison is well known for unique speaker solutions and Sylvania is particularly respected for its lighting solutions and vast variety of light bulbs. They have combined forces to introduce their first product to hit the market. Simply described, Music Lite is an LED floodlight shaded bulb that fits into 4, 5 and 6 inch recessed can type ceiling fixtures. It screws into the same socket that your existing light bulbs now occupy. However Music Lite is anything but a standard light bulb. Because it is LED the Music Lite bulb is bright (equivalent to a 65 watt bulb), cool and efficient and it lasts a very long time. Best of all it has a built in audio amplifier and speaker.
All you need is a pair of Music Lites in the ceiling of your kitchen, dining room, living room, etc and you have light and music in the same package. There is less clutter on your ceiling because there are no extra wires required for the sound. Music Lite speakers are wireless and reproduce music signals directly from your Ipod or from your house music system. So this means just a simple Ipod docking station connected to your existing house music system and you are ready to rock out while you cook, or mellow out while dozing off to sleep in the bedroom. Plus all your other music sources, including AM/FM, CD, vinyl etc., will play through the Music Lite speakers.
Two limitations of this first generation Music Lite may be range and sound quality. The range of the wireless transmitters and receivers is currently about 100ft. Most of the mid and higher end brands and models of traditional flush mounted speakers will play louder and with higher fidelity than the current Music Lite product. But if background sound levels are all that is desired and you plan to use mostly Ipod music as your sound source, you should be perfectly satisfied by the sound from Music Lite.
The price per pair is $600, not including installation. But remember, this is basically designed to be a plug and play product, so for most applications you can do it yourself. The Music Lite kit includes a pair of music lights, a remote control for light dimming, music volume settings and a wireless transceiver to connect to a wide variety of audio sources.
RESIDENTIAL GOLF SIMULATORS
My final high tech product is anything but do- it -yourself. Are you the type of person that loves to be the first on your block to get a new and outrageously cool toy? Or do you feel compelled to play golf all year round? Then perhaps you'd consider a custom installed indoor golf simulator in your home.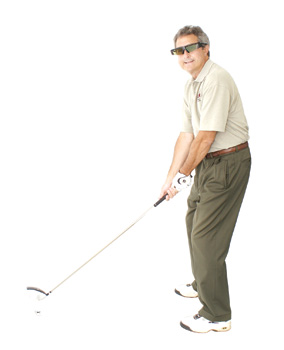 There are at least three justifications to invest in the ultimate adult toy. The first is that the golf simulator can double as a state of the art home theatre for watching movies and sports and playing video games. The second is that it saves you travel money; add up the cost of travel and green fees to play courses that include Pebblebeach, St. Andrews, Kapalua Bay and over 50 top destination golf courses world wide! The third is that you'll save time; if you play solo, it will take about an hour to play 18 holes on the simulator. A foursome will take under two hours.
The price of admission ranges from $20,000 to $50,000 depending on the brand, features and quality. All of the latest designs allow for use of your favorite clubs and real golf balls. The players play the course from tee off to sinking the putt, including every type of shot in between. The top of the line models feature high definition images and 7.1 surround sound for recreating the most realistic golfing experience. Special effects include howling wind, crashing waves and polite clapping from the crowd of spectators.
The most advanced ball tracking sensors enable the system to measure every shot accurately and place your ball exactly where it would have landed on the real course. Swing analysis is another invaluable feature. Club face position and angle of attack are measured and documented on every shot. Video swing analysis is also a feature that every golfer can use to improve his or her game.
Some final points about the golf simulator:
• The entire room becomes a dual-purpose golf simulator and home theatre. Room furnishings can include rows of theatre seats, club chairs, or sectionals. Wet bar and game tables are also options.
• The golf simulator can be fully enclosed and occupy space in an unfinished basement. The enclosure is custom designed and includes floors, walls and ceiling.
• Modular and portable units are also available. Some can be set up or broken down in approx. 1/2 hour. They take up less space and are less expensive than the first two approaches.
Don't forget to yell Fore!