17 Jun

A Beautiful Mind: The Passing of a Rare and Gifted Soul

The entire staff both past and present want to acknowledge the contributions that Thomas Churchill AKA Church imparted to Professional Audio Consultants. Church was integral to the success of PAC from the original formation in 1974 up until his untimely passing on July 20th 2011.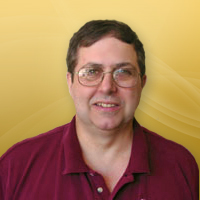 Church provided the technical oversight and training that all of us relied on to provide system designs that deliver high performance and reliability. Many of PAC'S key vendors also depended on Church to scrutinize the design of their products and to provide his feedback to help them to discover and remediate flaws that may have been overlooked by their R and D dept.
Church earned an Electrical Engineering degree from Cornell University and therefore had the educational background and natural talent and intellect to go into a variety of high tech fields.
His choice to work in the audio and video electronics field was primarily motivated by his love of music. Tom loved to play drums and percussion and actively played with the Local Band for many years. PAC's long term clients have come to depend on Church to help keep their home electronics systems up and running. They knew that no matter how challenging the circumstance, Church would not rest until he diagnosed and resolved whatever pesky gremlin was plaguing their entertainment systems. This was evidenced by the impressive turnout of PAC clients at Thomas Churchill's memorial service that was held at our showroom on Sept. 17th 2011.
Church's legacy will live on. His son Justin has recently graduated from Cornell with the same E.E. degree that his father earned. PAC will honor Tom's memory by continuing to provide exceptional system designs, with equally exceptional aftercare. The positive influence that he imparted to all of us at PAC continues to motivate us to make him proud of the company that he helped establish.
Sincerely,
Ralph Tarnofsky
President and Founder of Professional Audio Consultants