Check out this brief video presenting the state-of-the art Professional Audio Consultants showroom. The video features the invisible home theater, premium analog two channel audio systems for people who really care about how their music sounds and the crown jewel of PAC, our dedicated home...
When it comes to Audio Amplifiers, McIntosh is one of the best. This installation features a high-quality two channel music system with a McIntosh amplifier with both tubes and solid state. We installed a vinyl turntable and Blue Sound Vault that has 2TB of storage...

This project was for an apartment in a Fort Lee, NJ High Rise. The client asked us to design a system for their family room. We took an existing 20-year old system and worked with all of the prior equipment locations and cables. PAC upsized...

Professional Audio Consultants prides ourselves on making our client's vision become a reality. PAC is proud of this new and visually striking, custom, one-of-a-kind project. Our client wanted a seamless look of their TV into the wall of their master bedroom. We were able to...

This project was designed for a long time resident of Millburn, NJ. Our client, a local architect, hired PAC to help design a custom television and cabinet solution to fit a tight space. The customer gave us permission to modify the space as much as...

PAC designed and installed a user friendly, technology system for SSP Commercial Architects new office and design facilities. The system is controlled via a Crestron automation solution and also features three interactive video display panels. Also included is a background music system that streams music...

PAC satisfies even the most discriminating clients. One of PAC's top interior designer clients hired PAC to install a world class Sony 65" OLED video display that she utilizes for both home entertainment and visual presentations for her clients. The Sony video display is enhanced...

Ralph Tarnofsky, and the team at PAC, recently won sub-contractor of the year by Metropolitan Builders & Contractors Association of New Jersey! Sub-Contractor of the Year: Ralph Tarnofsky- Professional Audio Consultants Nominated by: Alan Archuleta - Archuleta Builders Ralph Tarnofsky's expertise and willingness to meet with my...
All too often you don't receive feedback from clients years after a project is finished. The value of a well done installation is noticed when the project is new and even more so years later. My project extended over several months at this...
The entire staff both past and present want to acknowledge the contributions that Thomas Churchill AKA Church imparted to Professional Audio Consultants. Church was integral to the success of PAC from the original formation in 1974 up until his untimely passing on July 20th 2011. Church...

Whole-home and Outdoor WiFi The demands that modern tech products place on your home computer and WiFi network have become significant. The number of tech devices that we all depend on everyday has grown exponentially. The average family has as many as ten or more smart...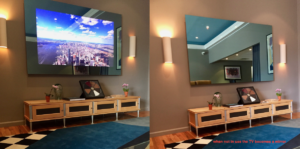 Now you see it, now you don't - When not in use the TV becomes a mirror! 
[embed]https://youtu.be/uFPFADJTIIg[/embed] PAC owner, founder, and resident turntable guru Ralph Tarnofsky discusses a few turntable options for spinning your records. Whether you're a seasoned audiophile, or someone who is just discovering the wonders of vinyl for the first time, PAC offers quality turntable solutions that are pleasing...